What is the best Baby cream for face in India? Are you confused as to which cream would be safe for your baby's skin? Well, you have landed in the right place as in this article, we have compiled a list of some of the best creams which will genuinely help to nourish and moisturize your baby's sensitive skin. Without any further ado, let's get started.
Being a parent, we have to be extra cautious when it comes to choosing baby care products. Do you know that a baby's skin is more delicate as compared to an adult's skin?
For instance, choosing a baby cream for baby face rash that contains harsh chemicals can instantly harm your munchkin's face instead of moisturizing.
There are many baby care products available in India which claim to nourish your baby's skin. But are they genuine?
Before going to purchase a product for your baby's face, always ensure to do some research about the products. You can't take a risk and stress because it can create a huge difference after the application on your baby's face. The harsh chemicals won't take even a single second to react on your little heart's skin.
The Best Baby cream for face in India
Finally, its time to know about the best baby creams for your baby's face in India.
---
#1. Mamaearth Milky Face Cream For Babies.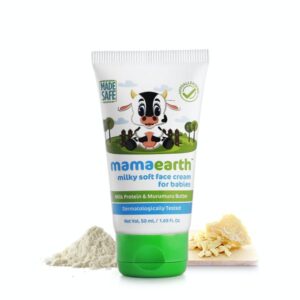 Mamaearth is one of the best organic brands for kids and mother care. The products are free from parabens and all sorts of chemicals and are proven to be useful during the parenting age. One of such product for the baby is Mamaearth Milky Face Cream. The cream has the rejuvenating properties that replenish and gently moisturizes the skin of the baby. Not only it acts as a skin protective barrier but also it helps to get rid of itchiness and dryness from your baby's skin.
Features:
The cream is formulated with lavender oil and milk protein that acts as a skin protectant.
The company has made this cream specifically keeping in mind the baby's sensitive skin.
The texture of the cream is lightweight which can instantly calm down the skin.
The cream comes in a white bottle along with a pump dispenser.
After application, the cream gets absorbed quickly on the skin.
Pros:
Nourishes the skin
Hydrating
Paraben-Free
Organic ingredients
Cons:
Mostly available only online
---
#2. Himalaya Baby Cream – Best Baby cream for face for dry skin in India.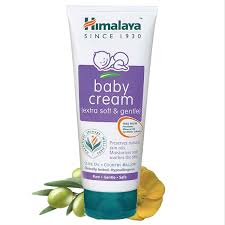 During cold weather, the skin of your baby may get excessively dry and chapped, which is why you need the best cream for baby face dry skin for regaining the moisture. There are various moisturizers available in the market but we found Himalaya Baby Cream to be useful particularly for this problem. Though the cream is made for the face, you can also apply it all over your baby's body as a lotion.
Features:
Contains licorice that keeps the skin soft and supple.
The olive oil present in the cream will provide deep moisturization.
Free from artificial fragrance
Instantly retains the skin's moisture level.
Pros:
Blends easily
Hygienic packaging
No artificial fragrance
Affordable price
Suitable for all skin types
Cons:
---
#3. Johnson's Baby Cream – Best Baby cream for face rash.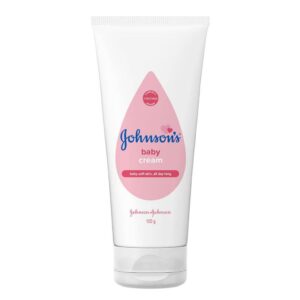 Johnson's Baby Cream is the best face cream for baby face rash. The cream is made of a thick creamy formula that helps to moisturize the skin of your baby preventing him from rashes and other skin problems. As per the clinical test, it has been found that the baby cream keeps the skin hydrated for 24 hours in a single application. The brand claims to protect your baby's skin from redness, dryness, flakiness as well as itchiness.
Features:
It is mild and gentle to the skin.
Locks moisture for 24 hours.
Formulated with protective emollients to fight against infections.
Contains natural plant extracts for deeper nourishment.
Pros:
Simple packaging
Available in various sizes
Shelf life is pretty long
Easily available in the market
Hydrates the skin
Cons:
---
#4. The Mom's Co. Natural Baby Cream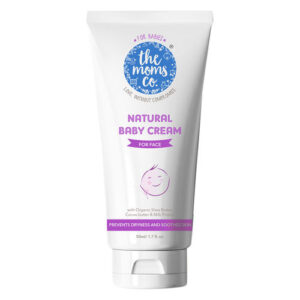 The Mom's Co. Natural Baby Cream is the best cream for baby face eczema. Not only it prevents your munchkin's face from extreme dryness but it also helps to keeps the risk of causing rashes and redness. The cream is free from artificial fragrance, parabens, and sulfates and is made of organic ingredients. It has a natural blend of essential oils that keeps the skin of your baby soft, supple, and glowing.
Features:
Comes in a white plastic tube.
Ensures to match the pH level of your baby's skin.
Keeps skin moisturized for 15 hours.
Contains ingredients like Shea and Cocoa Butter and Rice Bran Oil.
Pros:
Paraben and sulfate-free
No artificial fragrance
Keeps skin hydrated
Affordable
Cons:
May not be available in small towns
---
#5. Chicco Natural Sensation Face Cream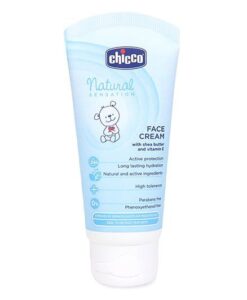 If your little one's skin is having itchiness, dryness, redness, and flakiness, then there is a chance of suffering from baby eczema. In such a situation you need to take care of your baby's skin with the right products. Although there are many products available for this problem in the market Chicco Natural Sensation Face is the best option to go for. The cream has a natural combination of shea butter and vitamin E which provide deep moisturization.
Features:
Provides 12 hours of moisturization.
Extremely safe for your baby's delicate skin.
Suitable for dry skin.
Pros:
Provides complete hydration
Repairs chapped skin
Cons:
Also Read,
The 7 Best Baby Shampoo in India.
Top benefits of baby care products:
Although there is a wide range of baby products available in the market which vary as per the skin type. From the baby cream, lotion to an ointment there is a whole lot of skincare products available especially for infants. Now, what makes these products different from normal skincare products? So let's get towards its benefits:
As mentioned the skin of a baby is very sensitive, thus they are more prone to a certain type of infection. The baby care products help to keep their skin safe from bacteria and pathogens.
These products are specifically made with organic and natural ingredients that rejuvenate the skin of your little one.
Organic products are good for the environment and preserve our mother nature. As baby care products are made with natural components, they are environment friendly.
Genuine baby products do not contain any harsh chemicals. Hence these products are extremely helpful to keep your baby's skin happy and healthy.
Wrapping Up
To keep the skin of your little one moisturized, glowing and free from rashes and redness, it is crucial to choose the right baby cream. There are umpteen baby creams available in the markets which claim to provide the best results but you as a responsible parent have to research and pick up the genuine product. All the abovementioned baby creams are quite effective and are free from harmful chemicals. The regular use of any of these creams will provide your baby's face with a visible difference and keep his or her skin happy and healthy.