Gone are the times when there were joint families and kids were lucky enough to be surrounded by grandparents, aunts, and cousins all day. The parents could go to work sans the anxiety of a child's care in their absence. With the advent of nuclear family trends and additionally, shifting places owing to job location or relocation, child care has become a matter of immense consideration for none of us wants to earn money at the cost of our child's care. Thus, if you are also bitten by the same anxiety as its time to re-join your job post-delivery, then, check out the comparison between Nanny or Daycare for your child.
The Cost Factor Involved
Finding a daycare with lesser charges is easy but finding a nanny with lesser charges is next to impossible. Even if you happen to find one such nanny, the chances are she will not be having the required attributes that you might have been looking for in a person who is going to accompany your little one all day long.
While hiring a nanny, professional, or the one recommended by your family friends, affordability always remains a matter of concern whereas the daycare centers offer reasonable prices and fit in almost everyone's pocket.
The Search Part of Nanny or Daycare for your child.
Irrespective of the cost involved in both options, the search part is something that makes this task even more formidable. While there are so many daycare centers providing lucrative facilities and benefits, it becomes a bit difficult to search the right daycare.
But finding a nanny involves much more research than just a professional institute that provides trained nannies for child care. The reason being that you will need to check her background, her identity authentication, feedback from other clients of the institute, her communication, patience, charm, and much more.
Also Read
10 tips to prepare your child for the first day of preschool
The Consequences (Nanny vs Daycare Pros and Cons)
Before deciding about the hiring of nanny or enrolment of your child in daycare, you must be aware of the consequences that are going to follow afterward. Have a look at the pros and cons of both options.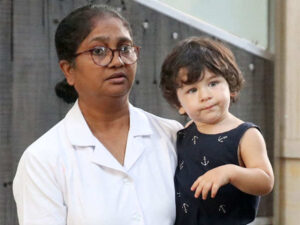 Pros of Hiring a Nanny
One to one special attention to your child, unlike daycare.
The homely atmosphere is always in the baby's comfort zone.
Babies gel with nanny just like family members.
Nanny looks after the individual needs of the baby.
The nanny can also assist you in other chores.
You can work late without worrying about the closing time of daycare.
If the baby falls sick on your busy working day, a nanny is always there to provide timely medication.
Nanny gives mothers like care and love to the baby.
Also Read
Fetching fee for Nanny of Kareena Kapoor's son.
Cons of Hiring a Nanny
If a nanny falls sick, your baby is the first to catch an infection.
In case of the severe illness of a nanny, it becomes hard to find a substitute nanny easily.
Baby does not get to socialize with other kids of the same age as in daycare.
Baby might become an introvert staying at home with the same person daily.
Supervision of nanny is difficult until and unless you have CCTV cameras in your house.
Child care methods and the thinking of nanny may vary with you.
Pros of Daycare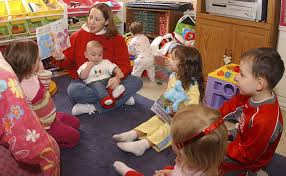 Ample supervision as support staff is there in daycare centers.
Social development of the child with all other children of the daycare.
Mental development with daily activities for toddlers and kids.
Easy pick and drop facility.
Reliable and available as no question of sickness like a nanny.
Helps in setting the baby's daily routine and schedule of fixed sleep and eat timings.
Cons of Daycare
One to one attention missing as there is usually 1 supervisor for 3-4 children.
Usually closed on holidays and thus, no option of babysitting if parents need to go for work urgently
More chances of catching an infection from other babies
Missing one to one attention on your child as usually there is 1 caregiver for 4 babies or kids.
Tiring for small babies until they do not get used to daycare routine
Self-supervision is difficult if daycare does not provide CCTV camera facilities to you via the internet.
Thus, choosing between the two is not an easy job. It will depend on your perspective of leaving your heart with the one you rely the most upon while affordability remains an issue.
Also read: